It's our first foray into Middle-Earth, and we're starting with the second chapter. Big laughs and opinions in our epic The Two Towers review.
Peter Jackson's The Lord of the Rings trilogy began with the release of The Fellowship of the Ring in 2001. A huge hit, and acclaimed as an instant classic, the follow up to Fellowship came one year later with The Two Towers. Continuing the story of Frodo Baggins and his journey to Mordor to destoy the One Ring, The Two Towers built on the foundations of the first film to deliver one of the largest-scale movies Hollywood has produced.
Based on the classic series of novels by J. R. R. Tolkien, Jackson's trilogy was a masterclass in epic big-screen storytelling and special effects work. The Two Towers epitomised that perhaps more than any other entry in the series, so that's where we're starting for our trip to Middle-Earth.
---
Subscribe to our YouTube channel
---
---
About the episode
Our The Lord of the Rings: The Two Towers review tells the making of story of an enormous production. With all three films shot back-to-back in a gruelling 14-month shoot in New Zealand, some of the behind the scenes stories are astonishing and breathtaking in equal measure. We have those stories and on-set footage in our The Two Towers review. All delivered, of course, with the typical ATRM opinions, insight and humour.
We talk about Peter Jackson as the director – the main with the vision. How he came to the project, developed it, and analyse just how good his work was on the trilogy as a whole, and specifically on The Two Towers. The writing team are then discussed. This was Jackson along with Fran Walsh, Philippa Boyens, and Stephen Sinclair. We talk about the huge challenge they had in adapting some of the most famous and beloved books in popular cutlure, some of the changes they made, and how effective their adaptation was.
Under the cast section, we talk about Elijah Wood in the lead as the Ring-Bearer, Frodo Baggins. We talk about the landmark digital effects creation that was Gollum, played by Andy Serkis. And we then discuss Viggo Mortensen as the heroic king-to-be, Aragorn. Finally, under the highlight section, we tackle 3 huge sequences. Westy talks about the midpoint action sequence, where the people of Rohan are attacked by Warg-riding Orcs. John then looks at the character-driven scenes in Osgiliath. And, of course, it's then Helm's Deep as Matt waxes lyrical about the enormity of the huge, climactic battle.
Watch the whole episode above of our The Lord of the Rings: The Two Towers review. If you like what you see, please visit our YouTube channel to subscribe, share, comment and like.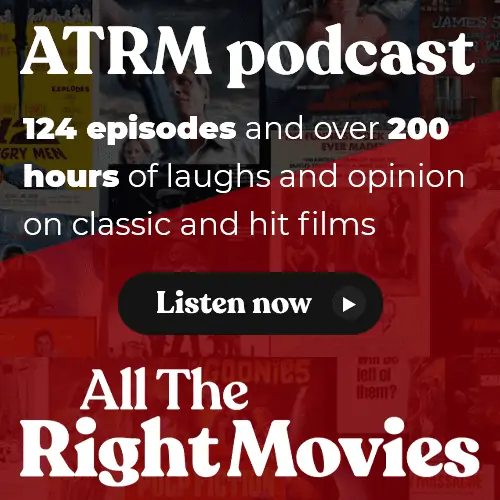 The beginning of a beautiful friendship
Stay up-to-date with all things All The Right Movies by signing up for our e-newsletter.