Batman Begins reinvigorated the superhero genre and launched Nolan's blockbuster movie career. We're telling the story of how it was made via 25 huge facts.
After the abysmal Batman and Robin (1997) which had been poorly received by both fans and critics, Warner Bros placed the Batman series on hiatus. Several reboot attempts were made between 1998 to 2002 but it wasn't until Christopher Nolan became attached that things started happening. Along with the help of writer David S. Goyer, Nolan helped to create a gritty, grounded and dark Batman trilogy. We're telling the story behind the first entry with 25 huge facts about Batman Begins.
---
1. Darren Aronofsky was originally attached to reboot the series
Before Nolan came along, Darren Aronofsky (best known for Requiem for a Dream [2000] and Black Swan [2010]) was attached to helm a Batman reboot. His vision for the character was as a homeless, teenage punk working in a Gotham City garage but this was deemed too revisionist by Warner Bros. Aronofsky also floated the idea of casting Clint Eastwood as an elderly Batman and substituting Gotham City for Hong Kong. Warner Bros. decided to politely decline that pitch as well.
---
---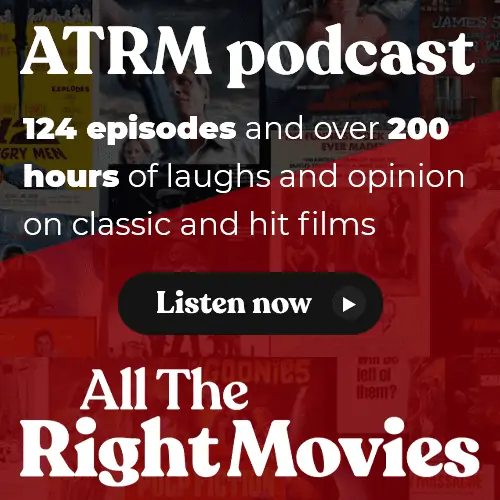 2. Christopher Nolan was a Batman fan before he signed on to direct the film
In January 2003, Warner Bros. decided to hire Memento (2000) and Insomnia (2002) director Christopher Nolan, who was a fan of the character. However, it wasn't the successful Tim Burton Batman films of 1989 and 1992 that Nolan liked, he was actually a fan of the Adam West TV show (which ran from 1966 to 1968). He was also a fan of the Denny O'Neil and Neal Adams Batman comics of his youth, and the seminal Frank Miller graphic novels that he read in his teens.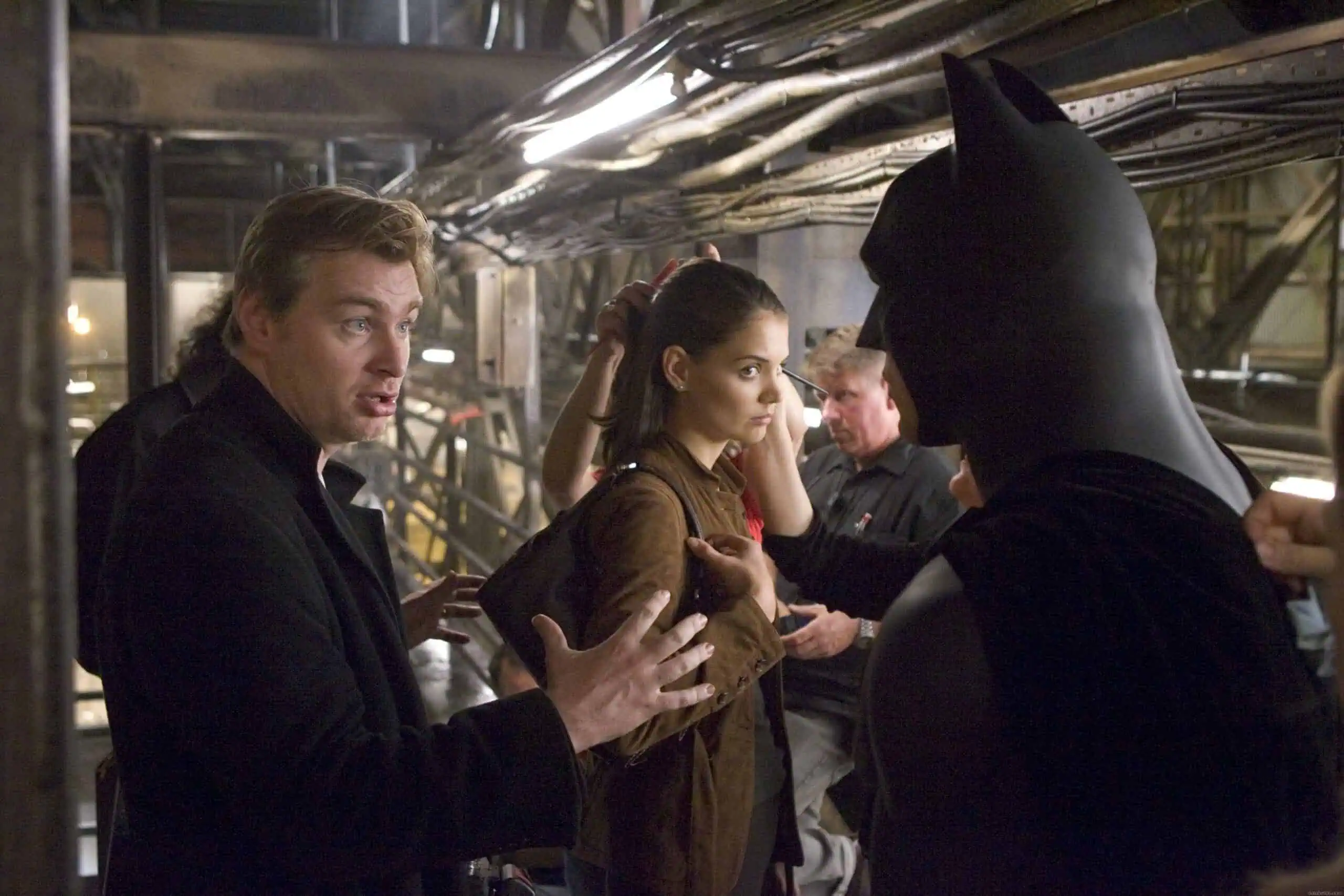 Christopher Nolan on the set of Batman Begins
---
3. Nolan had his own secret lair where he worked on the script
During the early process of writing, Nolan and fellow writer David S. Goyer (best known for the Blade trilogy [1998-2004]) had their own hideaway where they wrote the top-secret screenplay. No, it wasn't the Batcave but was in fact, Nolan's own garage. The script was so heavily guarded that the Warner Bros. executives were not supplied with a copy of the screenplay to read, but had to attend Nolan's garage to read it in the presence of the director and Goyer. Nolan also had production designer, Nathan Crowley, build a model of Gotham City in the garage. Crowley designed it as a large, modern metropolitan area with various periods of architecture.
---
4. Blade Runner was a source of inspiration
The Ridley Scott classic was one of the main films that inspired Nolan's Batman Begins. Nolan even invited some of the film crew for a private screening before production of began. After the screening, Nolan turned to his crew and declared, "This is how we're going to make Batman." Nolan is a huge admirer of the attitude and the style of filming used in Blade Runner and had stated that the film is, "an interesting lesson on the technique of exploring and describing a credible universe that doesn't appear to have any boundaries." This was something he was keen to apply to his own film.
---
5. Nolan decided that he only wanted to use one unit to shoot the whole film
Typically on a film production, there is a second filming unit often responsible for capturing supplementary footage such as establishing shots, action scenes and stunts, close-ups, inserts and cutaways. However, Nolan wanted to do things differently and decided to shoot the entire film with only one unit. As with all of his films, the director oversaw every single shot of the film in order to keep his vision consistent from storyboard to screen.
---
---
---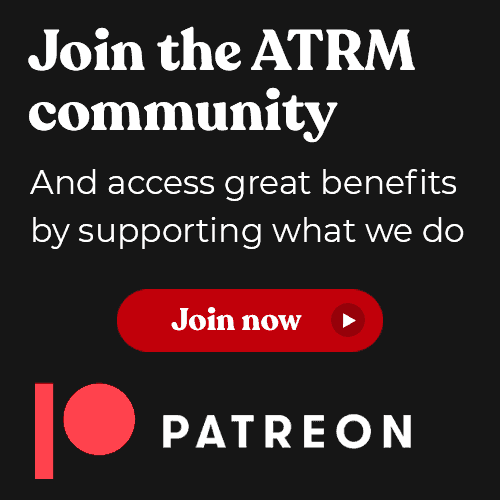 6. Famous actors were considered for the role of Batman/Bruce Wayne
Although it's hard to imagine anyone other than Christian Bale in the role of Bruce Wayne/Batman now, Nolan had a shortlist of actors he considered for the role. These included the likes of Keanu Reeves, Jake Gyllenhall (whose sister, Maggie, would star in the sequel, The Dark Knight in 2008), and Joshua Jackson (best known for the TV shows Dawson's Creek and Fringe). Other actors suggested for the role were Eion Bailey, Hugh Dancy, Billy Crudup, Cillian Murphy, and Henry Cavill.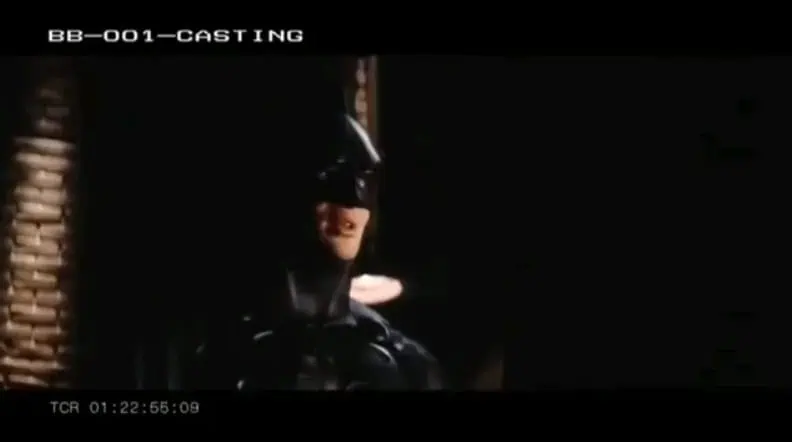 Cillian Murphy's screen test as Batman
---
7. Christian Bale was the perfect choice for Nolan
Christian Bale managed to beat all comers in securing the role of the vigilante. When asked about his decision to cast Bale, Nolan stated, "[Christian was] exactly the balance of darkness and light," that he wanted for the role.
---
8. Bale went a bit method in his preparation for the role
Bale is known for his dedication to his roles by losing or gaining weight. Before filming Batman Begins, he had starred in The Machinist (2004), where he lost 63 pounds for the role. As such, he was vastly underweight and weighed just 120 pounds when he auditioned for Nolan. After being cast, Nolan told Bale he needed to become as, "Big as you can be." Bale took on a 6 month dietary and exercise regime and ended up weighing 220 pounds, 40 pounds over his normal weight. Bale had actually became too big for the role, and some of the crew reportedly dubbed him "Fatman". He now had to quickly shed 20 pounds in order to have a leaner, and more muscular frame. The actor described the whole experience as an unbearable physical ordeal.
---
9. Bale disliked wearing the Batsuit
Similar to the experience Michael Keaton had when wearing the Batsuit for Tim Burton's Batman (1989), Bale also found that wearing the outfit to be an unpleasant experience. In interviews, Bale described the suit as being, "heavy," and, "claustrophobic," but used this to his advantage as it helped shape his performance: Bale told MTV that wearing the suit helped him develop his pained bat voice.
---
10. Michael Caine based his voice for Alfred on somebody he knew
The Italian Job (1969) star, Sir Michael Caine, was the perfect choice for the role of Alfred Pennyworth, Bruce Wayne's loyal butler. Alfred's sense of duty and loyalty to Bruce reminded Caine of the comradeship that exists in the military, so he decided to base his character's voice off a colonel he had known in the army as an 18-year-old.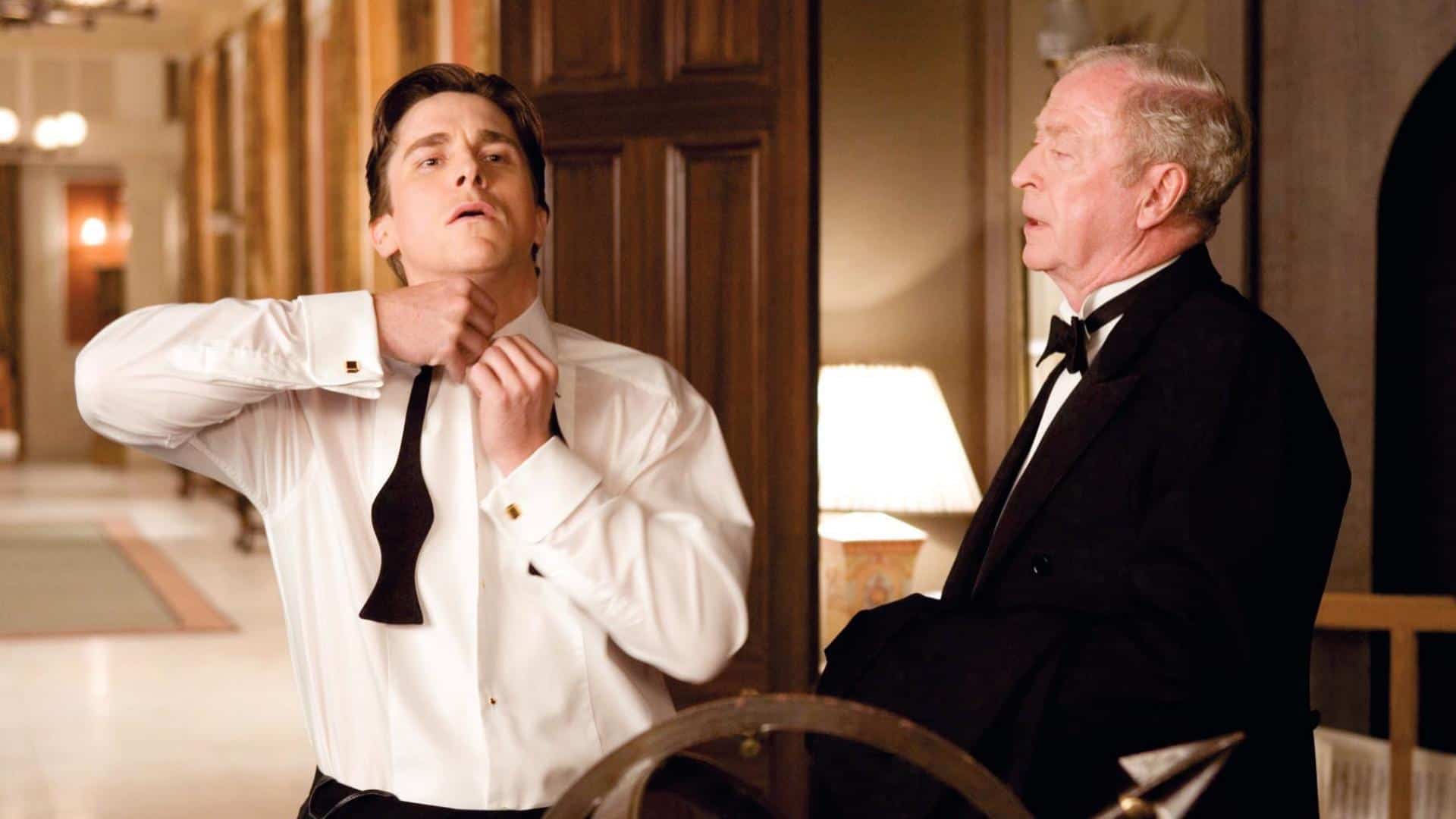 Michael Caine as Alfred
---
11. Christian Bale fell asleep prior to filming one scene
The actor revealed in an interview in 2009 that in his first scene acting alongside Michael Caine and Morgan Freeman (who starred as Lucius Fox), he was meant to be asleep in bed and Alfred and Fox would wake him up. However, Bale actually fell asleep waiting for everyone else to get ready for the scene. He was woken by Caine poking him in the ribs, saying, "Look at that! He's bloody fallen asleep."
---
12. Bale and Liam Neeson risked falling into the icy depths
In one of the film's more dramatic action scenes, Bruce Wayne trains with Ducard (Neeson) on a frozen lake. Bale revealed in an interview with the Chicago Tribune that if they had waited one more day to film the scene they would have found that the lake had melted. "We were out there, and it was splitting — there were big cracks appearing down it — and we all had to stand still and not break it. By the next day, there was all this water again."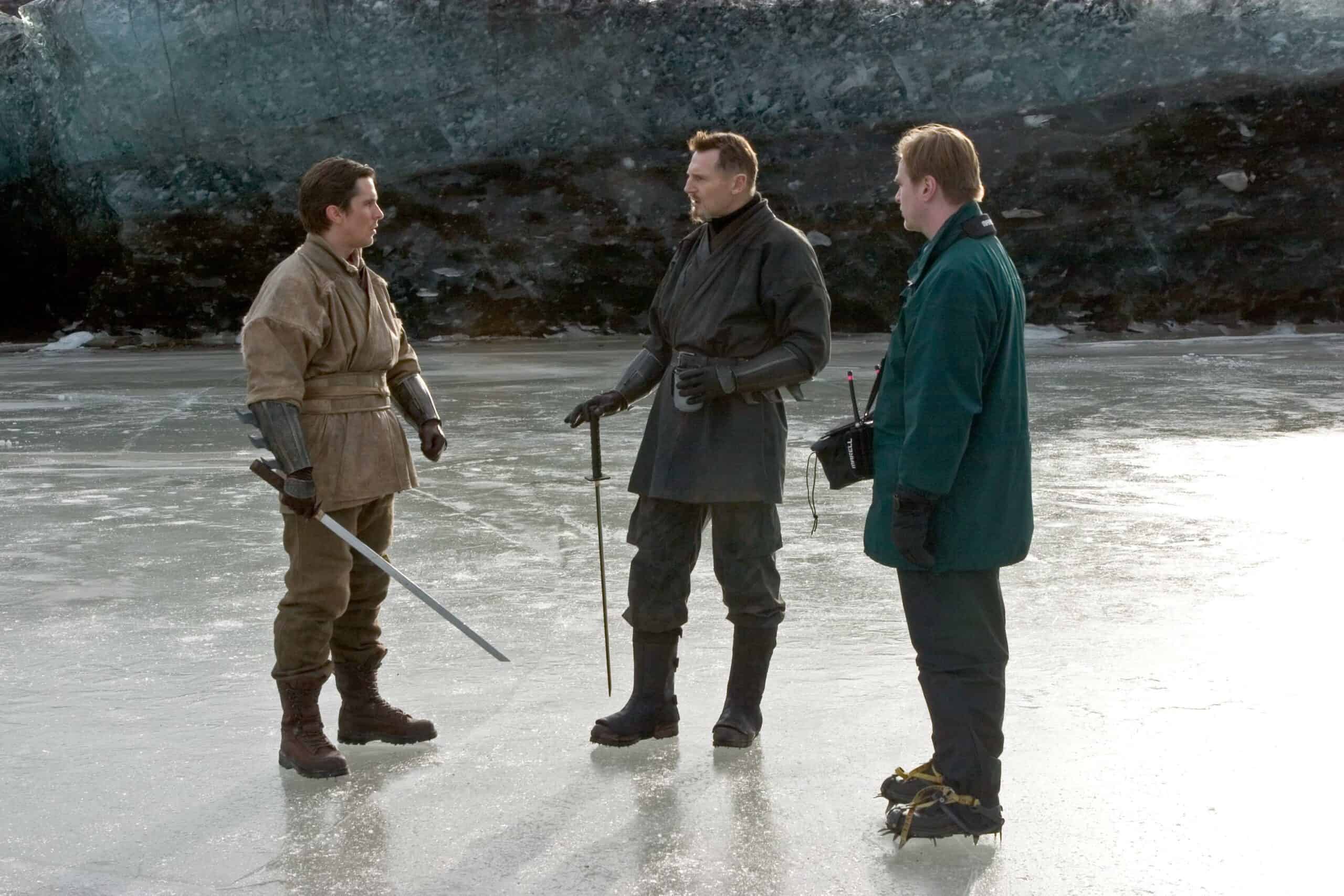 Bale and Neeson in the film
---
13. Neeson's height was problematic
Liam Neeson is quite tall. In fact, he's 6'3″. Nolan and his crew found themselves with an unforeseen problem, as Neeson easily towered over the rest of Ducard's men in The League of Shadows. In order to resolve this issue, the filmmakers decided to put most of the ninjas on wooden blocks so they didn't appear too short when standing next to Neeson.
---
14. Some unexpected names were considered for the role of Scarecrow
The main villain in the movie is corrupt Arkham Asylum psychopharmacologist Jonathan Crane/Scarecrow, and some famous names were considered for the part. Controversial rock star, Marilyn Manson, was perhaps the most surprising. Other actors such as Doctor Who star Christopher Eccleston and Ewan McGregor were also shortlisted for the role.
---
15. Nolan didn't have to look too far to cast his villain
Mentioned above, Cillian Murphy had auditioned for the role of Bruce Wayne, and impressed Nolan so much that he decided to cast him as the film's villain. Murphy took on the task of reading numerous comics featuring the Scarecrow and discussed making the character look less theatrical with Nolan. Murphy explained in an interview with Empire magazine that he, "Wanted to avoid the 'Worzel Gummidge' look, because he's not a very physically imposing man – he's more interested in the manipulation of the mind and what that can do."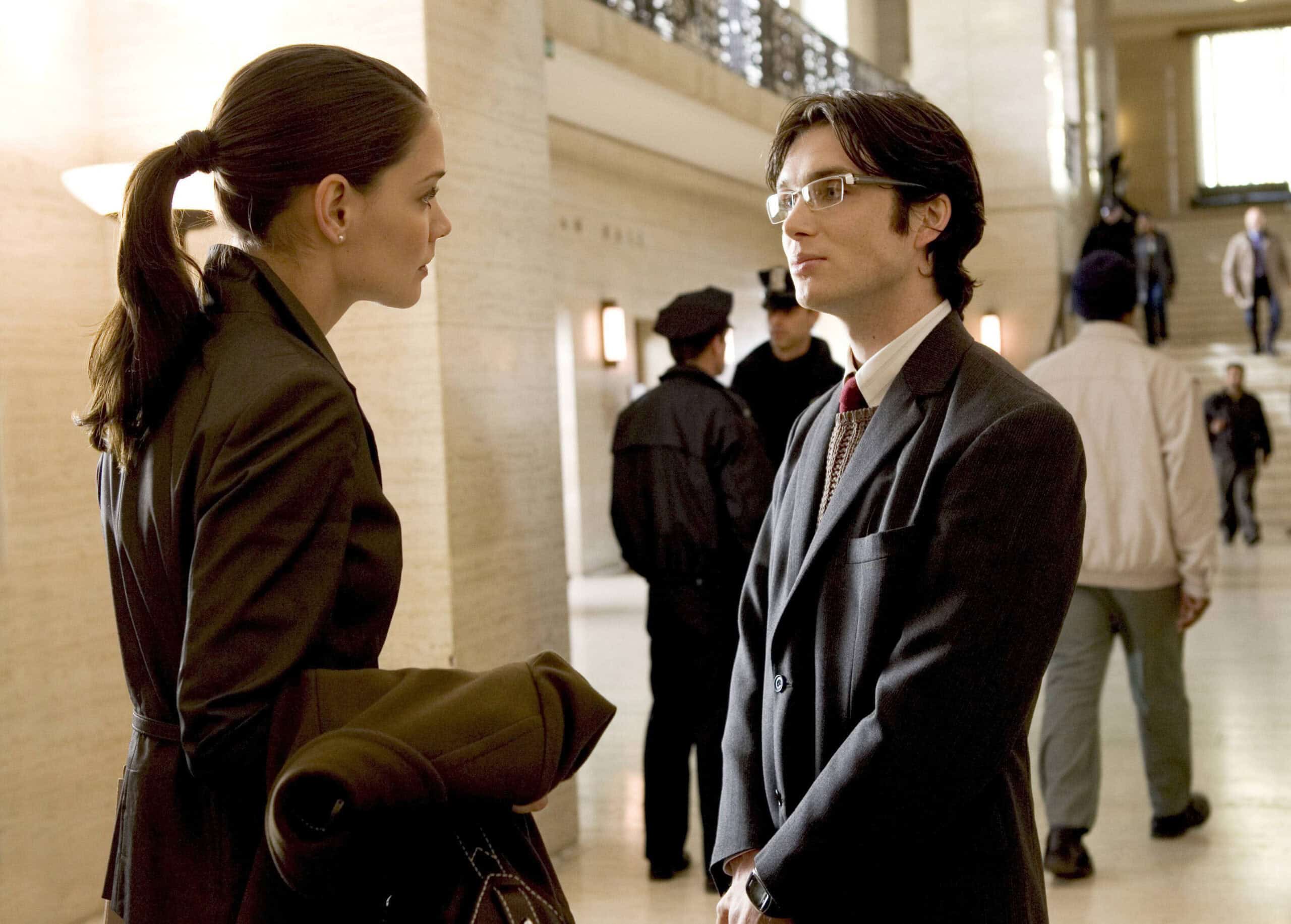 Cillian Murphy as Scarecrow
---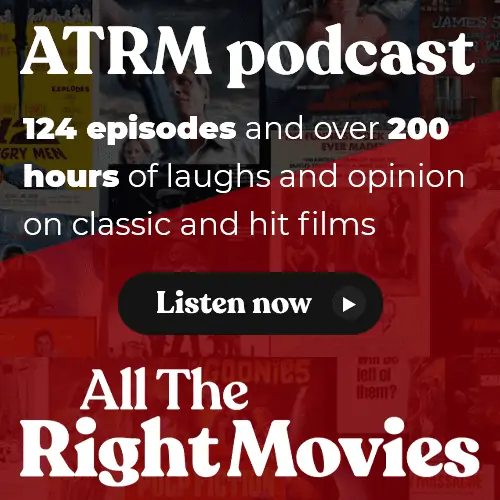 16. Nolan was quite taken with Murphy's eyes
Have you noticed how often Crane seems to remove his glasses in the film? Well, there is a reason for this. Apparently, Nolan became fascinated with Murphy's bright blue eyes so kept trying to find reasons to have Crane remove his glasses. Nolan's fascination with the actor's eyes may also explain all those intense close-ups in Oppenheimer (2023)!
---
17. King Joffrey lives in Gotham City
Keen-eyed fans of the HBO fantasy series Game of Thrones may have spotted the tyrannical King Joffrey Baratheon appear in a scene in Batman Begins. Jack Gleeson (the actor behind Joffrey) appears as a young child who come across Batman stalking the city at night. Years later when speaking about his experience on set, Gleeson said it was, "a very very memorable, cool experience".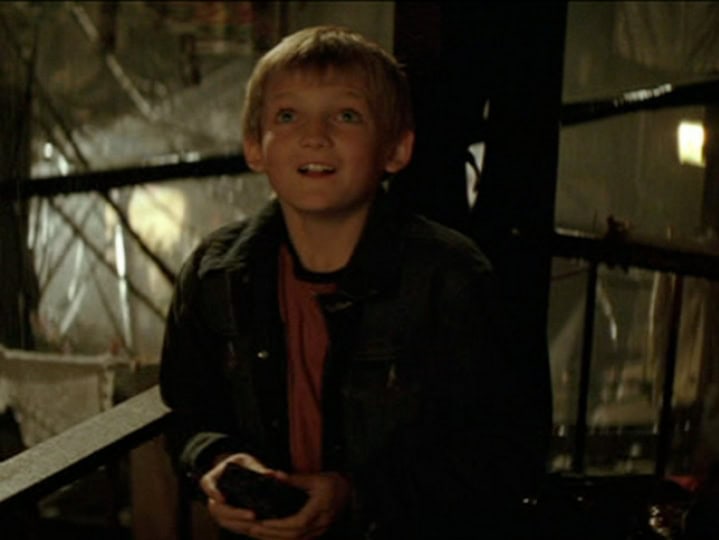 Jack Gleeson's small role in the film
---
18. The film had a strange working title
In order to avoid any leaks, Batman Begins was given the fake title The Intimidation Game. It wasn't just the media that was supplied with this title, but cast members too. Michael Caine was sent the script and assumed it was for a gangster movie when he first looked at it.
Also, the film had a couple of other titles early on. Batman 5 and Batman: The Frightening were two possible title before co-writer David S. Goyer came up with Batman Begins.
---
19. The film had two composers
Film composers Hans Zimmer and James Newton Howard both worked on the movie score, along with contributions from composers Ramin Djawadi, Lorne Balfe, and Mel Wesson. The composers worked on separate themes to represent the split personality of Bruce Wayne/Batman.
---
20. Nolan took a grounded and realistic approach
In an interview with Forbes magazine to celebrate the Batman Begins' 10 year anniversary, Nolan discussed his "logical" approach to Batman, explaining that he and co-screenwriter, David S. Goyer, deliberately selected a, "realistic," approach to the superhero. During the film, Bale's Batman faces credible threats on the streets of Gotham and as a result has to use genuine gadgets to fight crime. A lot of the gear and apparel depicted in Batman Begins was based on real-life military technology. This included Batman's cape, which was tailored in such a way that it would take on any shape when an electric current was charged through the material.
---
21. A real life Batcave was constructed for the film
Nolan has always been a champion of practical effects over digital where possible and decided to use full-scale sets and detailed miniatures rather than CGI. Therefore, the decision was made to construct an actual Batcave at Shepperton Studios in England, where the team cut rocks from molds of real caves. The set measured an impressive 250 feet (76m) in length, 120 feet (37m) wide, and 40 feet (12m) in height.
---
22. Wayne Manor might look familiar
You may recognise the house which serves as the setting of Wayne Manor in Batman Begins. The building is known as Mentmore Towers, and is a former Rothschild estate located in Buckinghamshire, England. It appeared as the O'Connell's home in The Mummy Returns (2001), as well as being featured in several other films such as Brazil (1985), Slipstream (1989), Eyes Wide Shut (1999), Quills (2000), Ali G Indahouse (2002), and Johnny English (2003).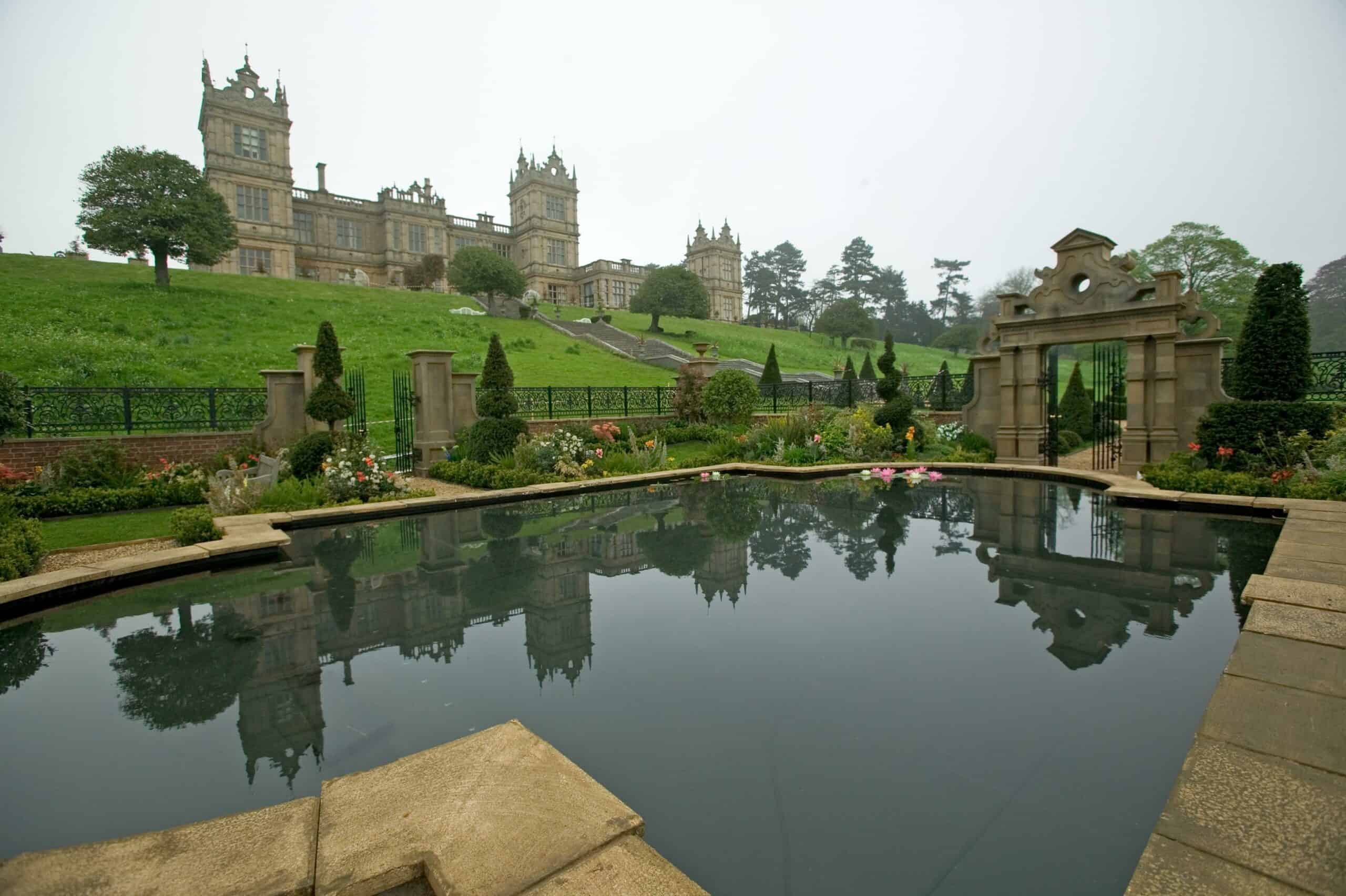 Wayne Manor in the film
---
---
23. Creating the Tumbler was a big project
To fit in with his grounded Gotham, Nolan decided the Batmobile needed an injection of realism. Inspired by Frank Miller's 1986 graphic novel The Dark Knight Returns, Nolan requested the vehicle be an all-terrain, military-inspired automobile. Production Designer Nathan Crowley came up with the concept of the Tumbler which measured 9 feet wide and 16 feet long. The Tumbler was built from scratch with a fiberglass body, 5.7. Litre V8 engine, hot air balloon burner, racing tires and super swampers. Due to the vehicle's impressive size and it's aesthetic, many believe that trick photography and/or CGI must have been used to show the vehicle driving through the streets of Gotham. However, it was actually a fully functional vehicle, which cost $150,000 to build and took an entire year to engineer.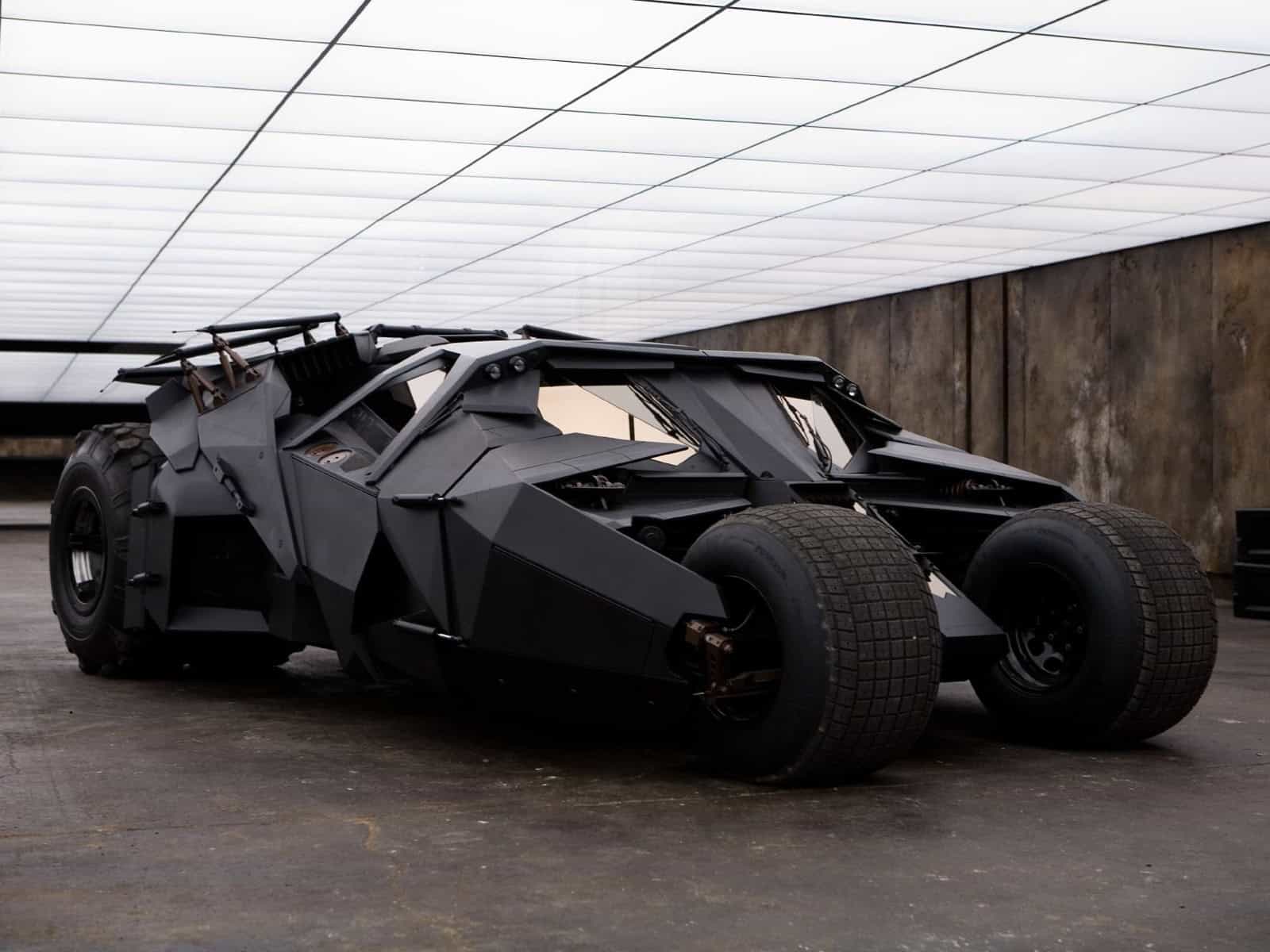 The Tumbler from Batman Begins
---
24. A member of the public crashed into the Batmobile
Shooting on location really adds to a film's sense of realism, but it isn't without its complications. Whilst shooting on the streets of Chicago, an individual driving under the influence of alcohol accidentally crashed into the Batmobile. The driver claimed that he hit the car in a state of panic, believing the vehicle was an invading alien spacecraft!
---
25. The film ends with a comic book homage
Batman Begins has such an iconic ending which perfectly sets up the film's sequel, The Dark Knight. We witness Jim Gordon (Gary Oldman) giving Batman a calling card which was left behind at a crime scene by a new threat in Gotham. When Batman flips over the card it's a Joker, which sets up the new villain for the sequel. This was in reference to the ending of Frank Miller's Batman: Year One, which ends in a similar fashion.
---
And you've reached the end – 25 epic facts about Batman Begins. Please share on your social media channels, and subscribe to our YouTube channel for lots of great video content.
---
The beginning of a beautiful friendship
Stay up-to-date with all things All The Right Movies by signing up for our e-newsletter.