Frank Capra's classic is, for many, the definitive Christmas movie. We're talking James Stewart, Donna Reed and the full making of story. We've got it all covered in our It's A Wonderful Life review.
Frank Capra's It's A Wonderful Life was released in 1946 and is today regarded as a classic Christmas movie, and by many as the greatest festive film. Capra's movie tells the tale of George Bailey, a suicidal banker who, one desperate Christmas Eve, is visited by his guardian angel, Clarence. Clarence shows George how his hometown, Bedford Falls, would be if George had never been born, and teaches George the true meaning of Christmas.
It's A Wonderful Life was viewed as a saccharine Christmas fantasy on its release, and gathered dust on studio shelves for decades until the 1980s. However, a spate of television broadcasts reignited interest in Capra's film, and it quickly grew in stature to become the huge Christmas classic it remains today.
---
Subscribe to our YouTube channel
---
---
About the episode
In our It's A Wonderful Life review, we tell the story behind the scenes from Capra's movie. This includes trivia on the writing of the film, the ensemble cast, and Capra himself. All accompanied by the standard ATRM opinions and laughs.
We talk in detail about Frank Capra as the director. How he came to be interested in the story, how he worked with the cast and crew, and how he was responsible for delivering his timeless vision. In the next section, we talk about the writing of the film. Many writers were involved along the way, with Capra, Albert Hackett and Frances Goodrich receiving key screenwriting credits. We have the full story on their relationship breakdown.
Under the cast section, we talk about the two leads. James Stewart plays George Bailey, the frustrated banker whose story we follow. We analyse what makes his performance so enduring. We then discuss Donna Reed, who plays George's wife, Mary Hatch/Bailey. Reed was inexperienced at the time, and we talk about her importance to the film.
Then we get into 3 massive moments. Matt talks about the scene where George walks Mary home after the school dance. John then looks at the sequence where Clarence shows George how life of his loved ones would be if he'd never been born. Finally, Westy waxes lyrical about the iconic ending, where the townsfolk of Bedford Falls rally round George.
Watch the whole episode above of our It's A Wonderful Life review. If you like what you see, please visit our YouTube channel to subscribe, share, comment and like.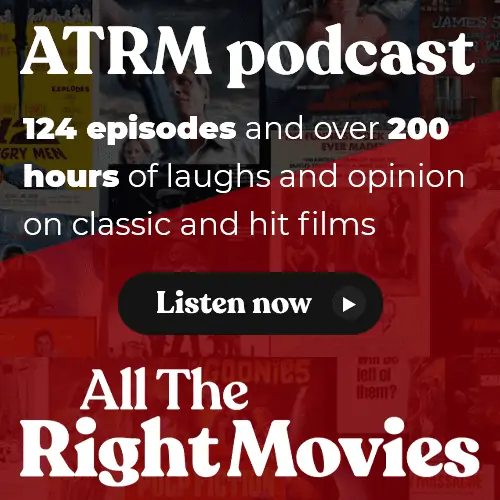 The beginning of a beautiful friendship
Stay up-to-date with all things All The Right Movies by signing up for our e-newsletter.