Batman kickstarted cinema's love affair with the superhero genre and confirmed Michael Keaton's status as a serious actor. We're telling the story of how it was made via 30 huge facts.
Comic book films may be everywhere at the box office nowadays but it wasn't always the case. In 1989, Tim Burton's Batman came along and changed the cinematic landscape forever. The story behind Batman is just as epic as the film itself. Below we delve into who nearly got the directing gig, who nearly played Batman and who nearly played Joker.
---
1. The film's beginnings date back to 1980
After the success of Superman (1978), co-writer Tom Mankiewicz wrote a script for the big-screen adaptation of the Caped Crusader. This script told the story of Batman and Robin's origins. In Mankiewicz's version, the villains were going to be the Joker and the Penguin. Other characters such as Rupert Thorne (a criminal overlord in Gotham) and Barbara Gordon (Batgirl and the daughter to police commissioner James Gordon) also featured in the script.
Elements from Steve Englehart 1978 comic book serial, "Strange Apparitions" featured in Mankiewicz's screenplay. The film was set to be released in 1985, with a budget of $20 million. However, producers Michael E. Uslan and Benjamin Melniker left the film, so the project was shelved until producers Jon Peters and Peter Guber came on board.
---
---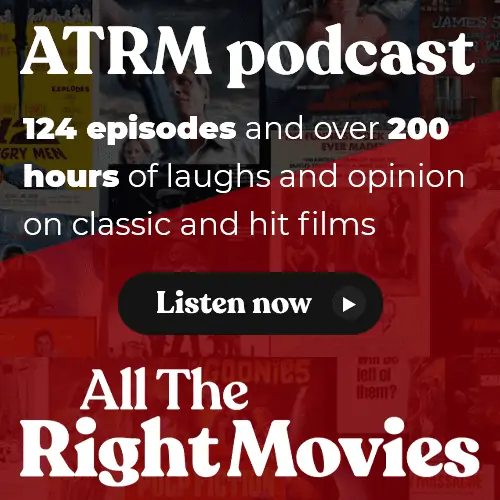 2. Tim Burton wasn't the original choice to direct
The Fly (1986) director David Cronenberg declined the chance to direct Batman. Joe Dante (Gremlins (1984)) was also approached to direct and wanted to have John Lithgow as the Joker. Dante eventually turned down the project as he was far more interested in the Joker as a character than Batman, and felt it shouldn't be that way.
---
3. Tim Burton didn't get Batman greenlit until the success of Beetlejuice
After the surprise success of Pee-Wee's Big Adventure (1985), Warner Bros. offered the directorial gig to Tim Burton. However, he was unsatisfied with the Mankiewicz script, so Burton and his girlfriend Julie Hickson wrote a 30 page treatment. The treatment was approved by the producers and the studio. In 1986, Burton met Sam Hamm and tasked him with the job of writing a screenplay based on the treatment. However, due to the writers' strike in 1985 and 1986, Hamm couldn't write any further drafts of the script. So, Burton decided to recruit Warren Skaaren who had worked with him on Beetlejuice (1988). After nearly three years of working on the project, Burton didn't get the film green-lit until the box-office result of Beetlejuice. Batman began filming in October, and it only took 12 weeks to shoot.
---
4. Batman could have been a comedy!
Yes, you read that correctly. When Tom Mankiewicz's script was still in action, the producers wanted to hire Ivan Reitman (Ghostbusters (1984)) to direct the film, but as a comedy. The producers wanted an unknown actor to play Batman, and also wanted to include William Holden as Commissioner Gordon and David Niven as Alfred, Bruce Wayne's faithful butler. Michael J. Fox and Eddie Murphy were considered for the role of Robin.
---
5. Mel Gibson was the original choice to play Batman
Lethal Weapon (1987) star Mel Gibson was the first choice for the role of Batman/Bruce Wayne. However, he turned down the role as he was already committed to Lethal Weapon 2 (1989). He was also considered to play Harvey Dent (Two Face) in the sequel, Batman Forever (1995), but turned it down due to his commitment to Braveheart (1995). James Bond star Pierce Brosnan was considered to play the role, and even went to meet with Tim Burton to discuss his involvement. Brosnan couldn't take the character seriously, and politely declined.
---
---
---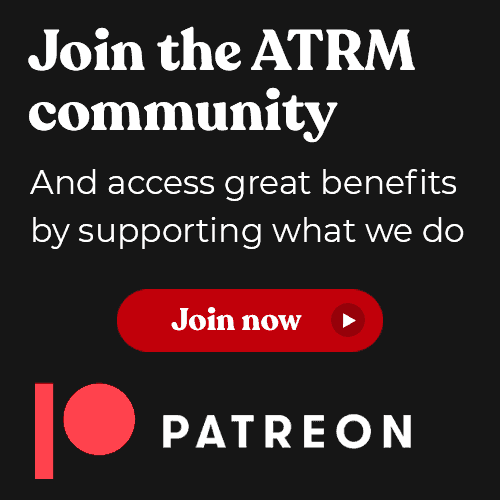 6. Two strong Michael Keaton performances finally landed him the role
Jon Peters wanted Michael Keaton in the lead after seeing an early screening of Clean and Sober (1988) because of Keaton's brooding, against-type performance. Burton had previously worked with Keaton on Beetlejuice and was keen to cast him in the role. He envisioned Keaton being the type of person who would dress up as a bat for effect. Burton believed Keaton's intense eyes would be something that could come through the Batman cowl.
The success of Beetlejuice at the box office and the critical success of Clean and Sober helped push Keaton forward as the preferred choice for the role. Executive Producer Michael E. Uslan had to be convinced by Burton that the casting of Keaton wouldn't be a step backwards. Uslan was desperate to avoid the camp comedy of the Batman TV show from the 1960s. Eventually, Burton and Peters were successful in their bid for Keaton when he finally secured the role in June 1988.
---
7. Michael Keaton got into the role in various different ways
Keaton went to great lengths to research bats and studied Frank Miller's "The Dark Knight Returns" comic book serial. He even went as far as living alone in London before production started, to recreate Bruce Wayne's sense of isolation.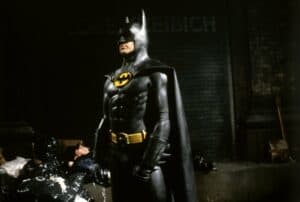 Micheal Keaton in the iconic Batsuit
Credit: Warner Bros.
---
8. Michael Keaton was the first to adopt the "Batman" voice
In Michael Keaton's own words, he's a "logic freak", so he was naturally concerned that Batman's secret identity would be fairly easy to uncover. He discussed ideas with Tim Burton on how to disguise the character, including using contact lenses. It was Keaton who came up with the idea to perform Batman's voice at a lower register than he was using for Bruce Wayne. This technique has become the norm in portrayals of Batman in film, TV shows and video games, with the likes of Kevin Conroy and Christian Bale adopting their own "Batman" voices.
---
9. Michael Keaton found the Batsuit claustrophobic
Keaton has confessed that he found wearing the Batsuit very claustrophobic and that, coupled with the fact he was unable to hear whilst wearing it, helped to put him into the right mindset for playing Batman. In his own words, he described how wearing the suit made him "go inward and that's how I wanted the character to be anyway, to be withdrawn."
---
10. It was Michael Keaton who came up with the famous "I'm Batman" line
We are all familiar with the famous "I'm Batman" line but surprisingly this line wasn't featured in the script. It was Michael Keaton that came up with the line. It was originally "I am the night" in the script. This later became part of the iconic "I am vengeance; I am the night" line in Batman: The Animated Series, which drew inspiration from Tim Burton's film and also used the iconic theme from Danny Elfman.
---
11. The Joker could have been played by Willem Dafoe
According to a 2009 interview with MTV, Willem Dafoe said he had been in "very early" talks for the role of the Joker. It's unknown whether he passed on the opportunity or whether the studio did. Years later he would end up playing another comic book villain in the form of the Green Goblin in Sam Rami's Spider-Man (2002).
---
12. Robin Williams was used as bait to attract Jack Nicholson
Robin Williams was offered the role of the Joker when Jack Nicholson was hesitant to take the part. Williams even accepted the role, but producers were keen to get Nicholson to sign on board. They approached Nicholson again and informed him that Williams was going to take the part if he didn't. Naturally, Nicholson took the role and Williams was released. Unsurprisingly, Williams resented being used as bait, and not only refused to play the Riddler in Batman Forever (1995) but also refused to be involved in any other Warner Bros. productions until the studio apologized.
---
13. It took two hours to for make-up artists to change Jack Nicholson into the Joker
It was a long and tedious process to transform Jack Nicholson into the Joker. In fact, 355 silicon adhesives had to be used because the actor had an allergy to spirit gum. Prosthetic make-up designer Nick Dudman, used acrylic-based make-up paint called "PAX" to create Nicholson's chalk-white face. It was a challenge to find the right shade of white, in contrast to the dark sets and moody lighting. A pure white face would have blown out the brightness and flatten the contrast in Nicholson's face. Luckily Dudman managed to pull it off.
---
14. Nicholson was generous with his Joker gloves
Jack Nicholson drove costume designer Bob Ringwood a bit mad by signing his Joker gloves and giving them away as gifts to visitors to the set. After words with Ringwood, Nicholson agreed to stop. However, he didn't keep his promise, so new ones had to be constantly made during filming. According to Ringwood, there must have been hundreds of signed Joker gloves given away by Nicholson.
---
15. Nicholson arrived on set later than other actors
Jack Nicholson was a night owl and was known for staying up until 3:00am, as he liked to dine out every night and attend parties. Due to this lifestyle, he had a strict schedule stipulated into his contract that his casting call was to be later than most of the actors and actresses on set. His co-star Michael Keaton would arrive early in the mornings, only for Nicholson to come to set around 10:00 am to greet him. Nicholson would then sit in the make-up chair and fall asleep immediately, as the make-up artists began work on his prosthetics.
---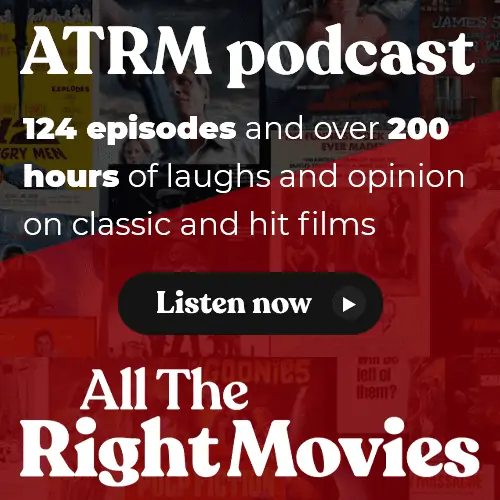 16. There's a reason why the Joker speaks French in the film
You might be wondering why the Joker speaks French twice in Batman ("Bruce Wayne, ne c'est pas?" and "Commence au festival!"). This dialogue is a homage to a character from French literature, Gwynplaine from Victor Hugo's "The Man Who Laughs." Gwynplaine is a horrifyingly disfigured man who was surgically deformed with a grotesque, "hideous" smile, which may remind you of someone else. In the earliest Batman comics, the Joker similarly peppered his speech with French expressions, probably as the writers wanted to pay homage to "The Man Who Laughs".
---
17. Nicholson made the savvy decision to receive a percentage gross on the film
In 1989, Jack Nicholson's average salary was $10 million, but he accepted the role of the Joker for $6 million on the basis that he would take a percentage of earnings and merchandise. It was a smart decision, as Batman became a huge box office hit. Nicholson ended up taking home around $60 million, which adjusted for inflation would be the equivalent of nearly $150 million in today's money.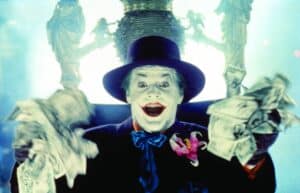 Nicholson with money to burn
Credit: Warner Bros.
---
18. The name of Joker's alter ego was created by the filmmakers
Jack Napier, the Joker's alter ego, was created by the filmmakers. In the comics, the Joker was never given a real name. There's a reason for this, as his anonymous status is often crucial to the plot and adds another mysterious layer to the character. Jack Napier is significant because it's a play on the word "Jackanapes" which is a medieval English term for a foolish man who resembles an ape. The name 'Jack Napier' is also a reference to the actor Alan Napier in the 1960s Batman TV show.
---
19. Michelle Pfeiffer was asked to audition for the role of Vicki Vale
Pfeiffer was dating Michael Keaton at the time so they would have naturally had great on-screen chemistry. However, Keaton was against Pfeiffer taking on the role, saying it would be awkward. In the sequel, Batman Returns (1992), Pfeiffer was cast as Selina Kyle/Catwoman, playing Batman's love interest. By then, Pfeiffer and Keaton's relationship had ended.
---
20. Kim Basinger was the original pick for the role of Vicki Vale but was replaced by Sean Young
Kim Basinger was the original choice to play Vicki Vale, but her agents were reluctant to let producer Jon Peter meet her unless he made an offer. She then became busy with another project, so Blade Runner (1982) star Sean Young was cast instead. However, Young ended up breaking her collarbone whilst practicing horseback riding for a scene on the grounds of Wayne Manor, which forced her to drop out of the film. Basinger received an emergency call just a week before filming started, and accepted the part.
---
21. Billy Dee Williams was meant to play Harvey Dent/Two-Face in future Batman sequels
Before Billy Dee Williams was cast as Harvey Dent in Batman, other actors such as Don Johnson, Dale Midkiff and William Petersen had been considered for the role. Williams took on the role with the expectation that he would be brought back to play Two-Face, and had a clause added to his contract reserving the role. However, when it came to casting the character for Batman Forever, Warner Bros. decided they now preferred the more well-known star, Tommy Lee Jones. So, Williams was bought out of his contract. He would later go on to voice the character in the animated film, The Lego Batman Movie (2017).
---
22. The filmmakers were keen to cast Ray Liotta in the film
At the time, Ray Liotta only had a handful of roles to his name. But his strong performance in Something Wild (1986) had caught the attention of the producers and Burton, who were keen to have him on board for Batman. They offered him the roles of Harvey Dent, Batman and Joker, but he turned them down in order to film Goodfellas (1990).
---
---
23. Bob Ringwood had some difficulty designing the Batsuit
In Bob Ringwood's words, "the image of Batman in the comics is this huge, big six-foot-four hunk with a dimpled chin. Michael Keaton is a guy with average build." Somehow, the costume designer managed to make Keaton appear as this foreboding character when wearing the Batsuit. The only brief from director Tim Burton was no tights or spandex.
---
24. Bob Ringwood created multiple different costumes to find the right one
Bob Ringwood really got into his duty as costume designer and ended up studying over 200 comic book issues of Batman for inspiration. A total of 25 sculpted latex designs were created; along with 25 different capes, and six different heads being made. The total cost for the costume was $250,000.
---
25. Warner Bros. wanted John Williams to score the film
John Williams was a serious contender for the composer on Batman and was the person who Warner Bros. were pushing for. However, Tim Burton hired long-time collaborator Danny Elfman to compose the music score. Jon Peters was sceptical of hiring Elfman, but changed his mind when he heard the iconic opening number. Elfman's took influence from a number of sources, including Hitchcock collaborator Bernard Herrmann's score for Journey to the Centre of the Earth (1959). Batman's score also plays homage to the score for The Wolf Man (1941) composed by George Waggner. Interestingly, Elfman would go on to score the remake directed by Joe Johnston in 2010.
---
26. Both George Michael and Michael Jackson were considered to contribute towards the film's soundtrack
Jon Peters was keen to get a well-known pop star to help collaborate on the film's soundtrack. George Michael and Michael Jackson were originally considered and Jackson was approached. MJ turned down the opportunity due to his concert commitments, so it was Prince who got the gig. The Batman soundtrack ended up selling over 3 million copies in 11 countries.
---
27. The Batmobile was a 'Frankenstein' car made up of various different car parts
The Batmobile was built on the chassis of a Chevy Impala, and incorporated the engine of an Impala, as well as the tail lights of a Ferrari. The fuel caps came from a London bus, and jet engine parts were from a Harrier Jump Jet. The sliding cockpit was also inspired by that of a Harrier, with the slim windows of a gun emplacement. Art director Terry Ackland-Snow included the headlights of a Honda Civic after noticing them on his wife's car.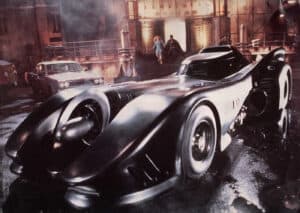 The Frankenstein Batmobile
Credit: Warner Bros.
---
28. Director Tim Burton wasn't too sure what the climax of the film would be
The script was being re-written late into production, which meant that Tim Burton wasn't sure on the ending. When he was filming the cathedral scenes with Jack Nicholson and Kim Basinger, Nicholson asked "Why am I walking up all these stairs? Where am I going?" Burton replied "We'll talk about when you get to the top" and later had to tell him that he didn't know.
---
29. The theatrical trailer for Batman became a popular bootleg at comic book conventions
Negative rumours were surrounding the film's production, especially considering the casting of Michael Keaton in the lead. In fact, 50,000 protest letters were sent to Warner Bros. offices in reaction to Keaton's casting. In order to ease the audience's worries, a theatrical trailer was quickly assembled and distributed to theatres. Warner Bros. executives decided to test the audience's reaction to the trailer by showing it in a theatre in Westwood, L.A. The 90 second trailer received a standing ovation and would later become a popular bootleg at comic book conventions.
---
30. Batman introduced the industry trend of basing a film's success on its opening weekend gross
We have a lot to thank Batman for, including the analysis of basing a film's success on its opening weekend gross. The film grossed $2.2 million in late night previews on June 22, 1989, on 1,215 screens and grossed $40.49 million in 2,194 theatres during its opening weekend. This beat the record previously set by Ghostbusters II (1989) which had been released one week prior. It became the highest grossing movie of 1989 at the US Box Office. And, at the worldwide box office it was second to Indiana Jones and the Last Crusade (1989). Upon the film's release, it became the highest grossing Batman movie, as well as the highest grossing film adaptation of any DC Comics character. Although, both records would later be surpassed by The Dark Knight (2008).
---
And you've reached the end – 30 huge facts about Batman. Please share on your social media channels, and subscribe to our YouTube channel for lots of great video content.
---
The beginning of a beautiful friendship
Stay up-to-date with all things All The Right Movies by signing up for our e-newsletter.